When it's busy, it's busy. But when it's quiet... tumbleweed.
After a relatively quiet summer, September went busy. I have been trying to put my names in hats and manifest to the world that it's time to reconnect. I've sent off pitches to opinion editors, been looking for opportunities to develop and people to bring me on board.
It was exciting to get my first The Washington Post byline focusing on two areas I'd been exploring for a while - travel and nature writing. Sometimes patience is key. The problem in freelance life is being able to pay the bills while waiting for items to emerge. But I wrote a piece about belonging. I'm doing a lot of thinking on belonging and being on the periphery of it, so this was a dream commission.
It's a perspective piece emerging from going to sing with nightingales at midnight on a secret retreat with a group of strangers who are all people of colour. I got an email out of the blue saying that people had heard about my reputation (luckily it seems to be ok) and would I like to come to something they thought might be right up my street.
And here you go, a piece about my awkward relationship with nature, society challenges and of course birds.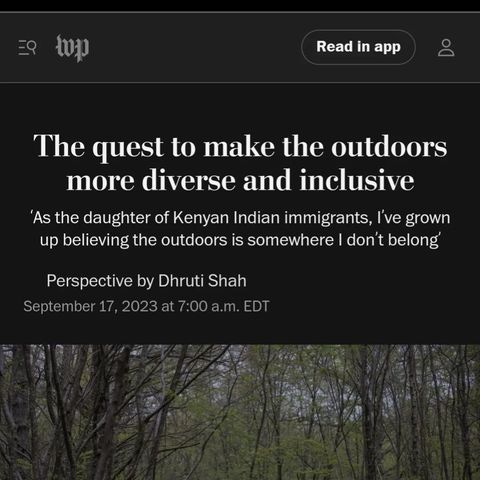 It has had a mixed reaction - people call it beautiful writing while others were offended and believed that nature has no gatekeepers… well if that's the case, why then is the environment one of the least racially diverse professions in western society?
Season Two of Have You Thought About continues and I've been so fortunate to speak to a series of inspiring women about their passions, interests and offerings to the audience about how to navigate life in all it's strange and wonderful forms.
Ace Ambrose discusses chronic illness and balancing that with her musical talents, for example if a musician needs to tour but it's hard to leave your room - what do you do?
And then communications specialist Hewete Haileselassie, the first person to introduce me to the food delight that is injera, shares her musings and experiences of grief and the cultural nuances that can occur. We also share insights about diaspora experiences with their differences and commonalities.
And then an episode where I talk to Genevieve Hassan, the host of Celebrity Catch Up: Life After That Thing I Did who spotted a niche and went after it. There are also some extreme money-saving tips in there too as the Have You Thought About episodes are about showcasing people as multifaceted beings.
And then there's the most recent episode (although the season still has some brilliant conversations to come).
Erica Berry's book Wolfish: Wolf, Self, and the Stories We Tell About Fear was one of the most anticipated memoirs the literary world was expecting this year. It's a brilliant exploration of storytelling, nature, how we interact with the world around us and also what it's like to be a woman. I was lucky to get an advance copy and then my friend Olivia sent me one too because she knows I have a love of wolves and thought it would be right up my street. I like talking to Erica because you can see her memoir was a labour of love. But of course beyond discussing fear, we also talk about the lighter things - like why play is important to build in…
Talking of podcasts this month has seen the end of the podcast series I hosted for TRANSFORM (an initiative of Unilever, the UK Foreign Office and EY) focusing on global changemakers.
Honestly hearing the stories of people who really are changing their communities and navigating their way through the business world was pretty inspiring. It was nice to be asked to be involved.
And finally, I read something pretty fascinating the other day although also a little creepy. It's a piece by Laura Barton in The Guardian about parasocial relationships and how a 'like' can escalate into something rather sinister when you put your head above the parapet. I think it's something many of us who write or sometimes need to front shows or put ourself forward for things (in this world while balancing the precarious freelance world you often have to do in order to get on radars).
While it's wonderful to have people respect and support your work, sometimes it can get into strange territory. Well worth a read here:
https://www.theguardian.com/uk-news/2023/sep/16/laura-barton-stalker-nfbntw
Anyway if you find what I say interesting, do pledge your support. Thank you especially to the paid supporters who keep this newsletter going.
I also have a Ko-Fi here if you ever want to send a hot coffee note of keep going to this erstwhile independent entrepreneur. In a precarious economy, all help of sponsorship, names being put forward for work and gigs is always welcome too.